Yacht charter from experience
Practical experience and technical expertise meet a service oriented mindset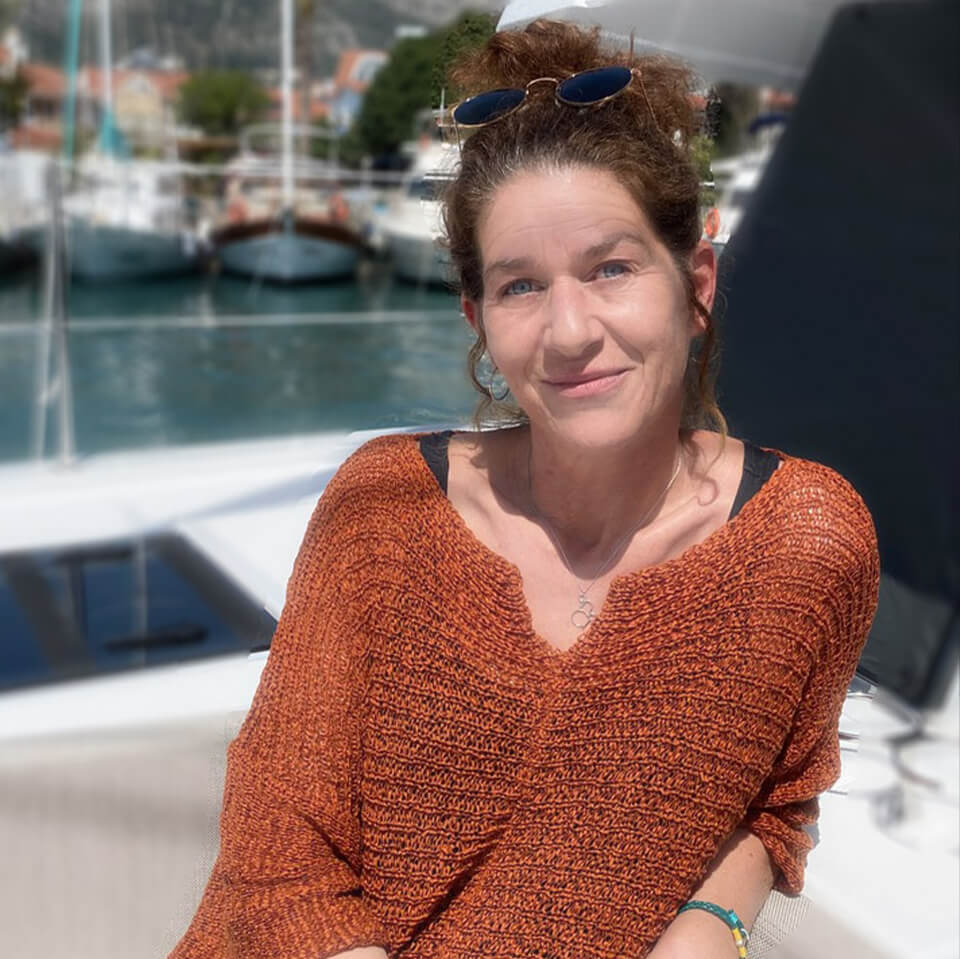 After a circumnavigation aboard a 53-foot Bruce Roberts Ketch, I, Incila Oezmert, was drawn to Göcek, Turkey in 1999 to gain more experience in the sailing industry. Passion quickly turned into profession and I gained practical experience in all areas of yacht charter. Positions in charter base management and in the service department of large yacht charter companies shaped my daily work for many years. The organisation of sailing events with up to 500 participants and up to 70 sailing yachts were among my personal annual highlights. Freelance work as a professional skipper and positions on board of some mega-yachts were also an integral part of my enthusiastic sailing life. Working for many years on the Bay Express, a bay and restaurant guide for the Turkish coast, was also close to my heart.
But after more than 22 years in yacht charter – from boat handovers, customer service with technical support, to fleet management – the wind has shifted a little for me once again. Or rather: I have once again picked up full speed and set a new course for independent yacht charter brokerage with Sailvation. Because I want to share my passion for sailing with you and organise your dream holiday with professionalism. To achieve this, I rely on personal contact and working with selected partners, from your enquiry to the handover of your chosen boat. I am already looking forward to our first conversation!
Sailing as a passion and way of life
Whether as skipper, deckhand, cook or all-rounder: I have been able to use and expand my sailing experience in many places. I have sailed the following seas myself: Mediterranean, Atlantic, Panama Canal, Suez Canal, Indian Ocean, Caribbean, South Pacific, Red Sea. In the process, I was able to meet many great people, make good contacts and gain incredible experiences. A few highlights from my life:
1980: Ship ahoy: First own boat – an Optimist
I have been drawn to the water since I was a child: at the age of eight, I started my sailing career on an Optimist, unexpectedly, but just as motivated as I am today. So I learned how to run a boat from scratch and to this day I gather practical experience as often as I can – to pass this experience on to you and make your perfect charter yacht possible for an unforgettably beautiful sailing holiday.
1996 – 1999: Circumnavigation as a formative / fascinating experience
As cook, mate and hostess, I covered more than 30,000 nautical miles on my circumnavigation. The range of tasks was wide: from solo night watches and helming to navigation and provision planning, to helping with technical work in the harbours, including a complete refit of the yacht in Bali in 1998. Experiences that have shaped me to this day and made my profession more of a vocation.
2002 – 2004: Cast off for female power
I took part in the Göcek regattas from 2002 to 2004 as coach of the Göcek girls' team. Because besides relaxed holiday sailing along fantastic coasts, my passion is also fast sailing in competitions.
2006 – 2009: BSharing my enthhsiasm for sailing
Helping to set up and publish "Bay Express", a guide to bays and restaurants along the Turkish coast, took me to many hidden bays. Of course, you will get these and other first-hand tips for your sailing holiday.
2009: Founding of Sailvation out of pure passion
The focus of Sailvation at that time was still on the production of bareboat skipper support videos and technical manuals in English and German – to motivate and improve the technical knowledge of bareboat skippers. The idea came to me during my daily work with skippers and sailors at the charter bases.
2007 – 2012: Skipper`s daily routine and affair of the heart
Through my regular sailing trips along the Turkish coast – solo and with crew – for private charters in the Gulf of Göcek, I know the area like the back of my hand. Feel free to contact me at any time if you want to head for particularly remote places or good restaurants – I have some insider tips here that I'd be happy to share with you.
2012 – 2013: Ready to take over, Captain!
As 1st Mate, I had full responsibility over a 32-metre SanLorenzo motor yacht during the captain's absence and familiarised myself with all the yacht's technical system. A great experience!
2015 – 2016: Time for a great event

It was both an honour and great fun to be co-organiser of a sailing regatta with 350 people on 55 boats in Turkish waters. Today, I still enjoy planning regattas and events – and clients benefit from the good contacts I have built up over many years in the sailing industry.
2022: Time for a breath of fresh air: Sailvation as a Yacht Charter Agency
All my competence, profession and above all passion are put into Sailvation – and I would not only like to share this with you, but thereby make your perfect sailing dream come true. I look forward to your personal enquiry in order to make your yachting experience in your desired destination unforgettably beautiful.
Stress-free, safe sailing holidays with a high level of comfort
From my own experience working on many charter ships and sailing myself, I know: good equipment on the ship and functioning technology are the be-all and end-all for a stress-free, safe sailing holiday. This starts with very simple things, such as sensible kitchen utensils for cooking, and extends to the safe regular maintenance of the on-board technology. When putting together your individual offer, I take great care to ensure that the ships not only meet your requirements, but at best exceed them.
Tailor-made offers
No automated booking system for a good reason: according to your ideas, wishes and requirements, you will receive a personal charter offer tailored to you – with the perfect yacht for your chosen dream destination. Personal contact with the customer is paramount at Sailvation and therefore automated offers are not used.
Experience in all areas of sailing
Whether bareboat or crewed charter, whether on smaller sailing yachts or 60-metre luxury liners, whether as deckhand or skipper: my practical experience and competence is your benefit when I prepare an individual yacht charter offer for you, from carefully selcted partners.